Hebiimetaru is a Brunei-based band who describe themselves as Melodic Thrash/Groove Metal, with five members in its line-up. For a full introduction, check out my previous article on them HERE, where you can listen to the brilliant track 'The Wheel Of Life' from this album.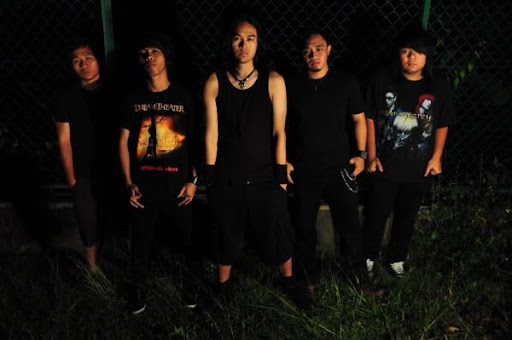 Hebiimetaru might take their name from a Japanese transliteration of Heavy Metal, but their musical influences come from somewhere else altogether (I've discussed their influences in the previous article). Inspired from this wealth of metal's many genres and subgenres, they've managed to mesh those influences into a technically impressive, tightly-crafted collection of songs to please lovers of heavy and extreme music.
The whole experience starts with In The Darkest Abyss, a piano-led track reminiscent of the theme of The Exorcist. Then the record takes it up a few notches with lightning-fast drumming, heavy riffs, deafening solos, guttural screaming and dark lyrics. This is where Hebiimetaru excels particularly well.
Tracks like My Legion, and The Wheel Of Time showcase the band's technical ability and a flair for crafting a sound reminding you of all the metal bands you love but still come out with a musical experience distinct from all those bands. The band name, Hebiimetaru, is definitely quite apt, because this record will appeal to most heavy metal fans regardless of sub-genre preferences. This is an assured, confident debut from the headbangers.
Hebiimetaru is definitely one of the bands leading the charge in the Brunei metal revival after the genre having been sidelined by the sudden boom of indie and alternative bands. I've also interviewed the vocalist, Arif Sablee. Here's what he has to say.
J: (Sub-)Genre-wise, what would you say Hebiimetaru is?
A: Genre-wise, we agreed that we generally have a groove metal sound going on but we also like to emphasize that we are quite melodic too. It's quite difficult to distinguish what we really are. But I can safely say that we have a mix of Thrash, Melodic death and Power metal influence in our music.
J: If you had to describe Hebiimetaru in three words, how would you?
A: If I had to describe Hebiimetaru in three words, it would be energetic, chaotic and melodic.
J: Were there any Bruneian bands that inspired you to be in your own band? Non-Bruneian bands?
A: Back in the early 2000's there were a number of local bands I looked up to and inspired me to be in my own band. They were bands like Wan Long Kok, Senjakala, H8, 13th Project, Inchpin, Draconaeon and Saprosoul. Those were the good old days haha. With Non-Bruneian bands there were tons, but i would pin-point Sepultura and Metallica as my major source of inspiration.
J: What do you think of the local scene in terms of mainstream acceptance? Do you think there's enough support from the authorities? How about the metal scene in particular?
A: I am very impressed with the mainstream acceptance of local music. These are evident by the number of local songs being played in radios, award shows and competitions dedicated to local acts, album launches, music video premiers, facebook groups...the list just goes on. I think authorities have been a lot more supportive than in the past though I do wish they could be a little more open minded especially when it comes to metal. The metal scene however remains fairly underground with only a few metal bands being able to reach mainstream status. There aren't that many metal gigs in the Brunei-Muara district sadly.
J: What was your first gig like? How is that gig different to if you do a gig now?
A: My first gig was nerve wrecking really, I did not talk much and was a little self-conscious but eventually i thought to myself "forget what other people might think, just have fun". Positive thinking really helped my performance and the band as a whole. If we were to do a gig now, I'd say that we're much more confident in what we do and definitely a lot more experienced but keeping in mind that we're still here to enjoy ourselves.
J: How much work did you put on the album? How does it feel to have an album out there for people to listen to?
A: We put a lot of work into our album, well Hafiz and Aziiz did most of the work, they we working hard with song writing and recording/mixing and with getting things perfect. I was responsible for the lyrics and vocal recordings so I'd say they deserve most of the credit. Overall i think we spent a good 6-7 months working on the album. Once the album was out, we felt that we have accomplished something great and we felt relieved that all our hard work is starting to pay off.
J: How long do you think it will be till we can have a true music 'industry,' in which musicians can earn a living making music?
A: I'm really bad at predictions, but if I had to give it a shot, with the way the local music scene is heading, I would probably say in 5 years time.
J: How do you think the newly-established BeaT Berhad will affect the local scene?
A: I actually just found out about BeaT Berhad and I really find it interesting. With BeaT handling the copyright issues, we can safely distribute our music anywhere for those of us who worry about those kind of stuff.
J: What do you think the local music scene needs right now in order for it to flourish?
A: The local music scene needs more support and enthusiasm from everyone I would think. We need to put ourselves on the map, we need to get noticed, we need to let people know "hey! we exist, we've got awesome diverse talented artists here! come check us out"
You can grab the album for BND 10.00 now by contacting the band on their Facebook. They are currently working on their second album.