[FILEDEN IS BEING SHIT RIGHT NOW. CLICK HERE TO LISTEN ON MY TUMBLR]

Hebiimetaru - The Wheel Of Life (Feat. Yean Matussin of Thermal Collision)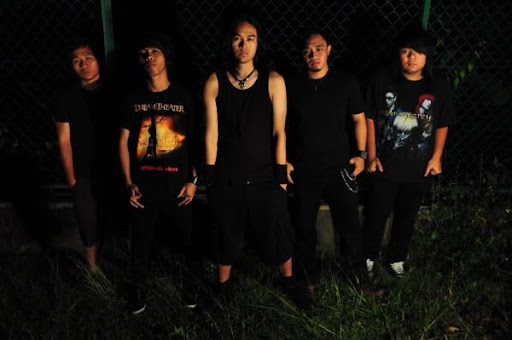 One of the first genres to really gain an underground following and developed its own scene in Brunei is metal, with the likes of [H8], Wan Long Kok and Draconaeon serving up some heavy, extreme music to the Bruneian public.
Now I haven't heard much news from these forefathers of Bruneian metals, but today's Bruneian metal has been slowly creeping back into the public consciousness, even with heavy competition from genres such as indie and indo-alternative rock.
One of the bands to lead this renaissance is Hebiimetaru, a five-piece Melodic Thrash/Groove Metal band formed in 2004. Their influences range from thrash (Metallica, Megadeth, Trivium), melodic death metal (Children of Bodom, In Flames), metalcore (Bullet For My Valentine, As I Lay Dying) and many more (Amon Amarth, Carcass, Black Sabbath, Cannibal Corpse, etc).
The production value for this song is impressive. The tightness and the execution of riffs, basslines and drumming is incredible. Both vocalists (the woman's voice is Yean Matussin's, of Thermal Collision) sound amazing together. I've been listening to this song non-stop.
This song is making me fall in love with metal again. I'm not exaggerating. Now I want to listen to all my Metallica albums, Dragonforce CDs, Killswitch Engage songs, and Mastodon's masterpieces.
Anyway, this song won't be available to download. But Hebiimetaru will come out with a new album, hopefully by this month, and it will be on sale for $10 (Brunei dollars). So if you like (or love it, like me) this song, get the album from them.
Listen to their other songs on myspace HERE.
Become a fan of Hebiimetaru on Facebook HERE.
Signing out
Over and out

----------------
Now playing: Hebiimetaru - The Wheel Of Life
via FoxyTunes