Nasi & Coffee (kLip)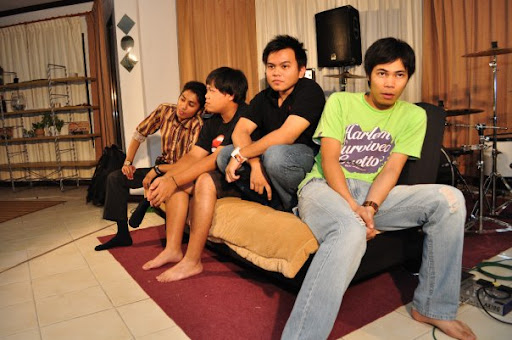 I'm really liking this song by kLip. I've known this song for quite a while now, so when it was sent to my inbox, I already knew I was going to post this. It's sort of got that Lily Allen thing going with the lyrics (I wake up, do stuff, do more stuff, something happens), which I dig.
They're got tuneage, I tell you. I'll dance to them. I'll jump to them. I'll bob my head from the right to the left and back to the right again. I like this song, and so should you.
For you who don't know, kLip is a Bruneian indie grunge four-piece consisting of these guys:
Ameer - Vocals, 2nd Guitar
Is - Lead Guitar
Hardy - Bass
Sepol - Drummer
They're quite a Pelangi FM favourite, having been nominated for the 2008/2009 Pelangi Awards for "Best Duo/Group" and "Best Newcomer," and also having been chosen as their spotlight artist of the month once.
So download the song, and there are more songs available for download on their blog. Check these links out.
Download the song
HERE
.
Read their blog
HERE
.
Listen to their music on Popfolio
HERE
.
Become a fan of kLip on Facebook
HERE
.
Signing out
Over and out
----------------
Now playing:
kLip - Nasi & Coffee
via FoxyTunes